At Balance of Life Clinic, we understand that living with allergies can put a damper on your daily life. Our experienced professionals take an integrative approach to whole-body health and use Nambudripad's Allergy Elimination Techniques (NAET®), a noninvasive drug-free solution to naturally eliminate all types of allergies.
Common Allergens
Each person's body is unique, but there are common allergens that affect millions of people around the globe, including:
Pollen from ragweed, grass, flowers, trees, and other plants
Animal dander
Peanuts
Dairy
Wheat
Shellfish
Mushrooms
Eggs
Prescription medications, such as penicillin and aspirin
Latex
Environmental toxins
Allergy Testing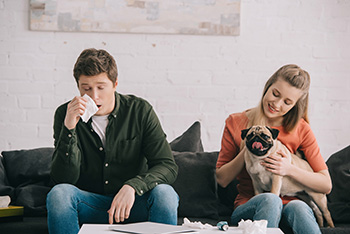 Before you embark on a natural elimination of allergy treatment, it's important to perform comprehensive allergy testing, so we can discover what you're allergic to and take specific steps to treat it. Our doctor will talk with you about your medical and dental history, diet, lifestyle, and any allergy symptoms you may be experiencing. Allergy testing can be performed a number of different ways, some doctors perform blood tests for specific substances, such as pollen or certain foods. We use Qest testing which tests with frequency and DNA.
Treatment
Once we have your allergens, we'll set up an appointment for elimination. We can do multiple allergens at one time, and once the treatment is done, you must stay away from those allergens for 25 hours. We will let you know what we are eliminating to make that easier. It takes about a half an hour for the appointment.
Although we use integrative medicine to treat our patients, it's meant to complement your current traditional health care. If you're interested in trying NAET® in addition to a treatment plan that was developed by your doctor, make sure to talk with them about it before beginning the therapy.
Contact Us To Learn More About NAET®
At Balance of Life Clinic, we're committed to helping all our patients lead healthier, happier lives through integrative medicine. Regardless of the health issues you may be facing, we take a whole-body approach to find the root cause and create an individualized comprehensive treatment plan to help you reach optimal health and wellness and prevent issues that may crop up in the future. Contact us today at 330-764-4242 or toll-free at 877-764-4242 for more information about the services we offer or to schedule an appointment.