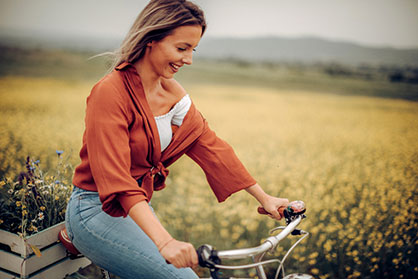 At Balance of Life Clinic in Medina, Ohio, we believe in taking a whole-body approach to healing. Our compassionate our providers treats the whole person using an integrative approach. Because we take an alternative or non-traditional approach to medicine, people often have many questions like "What is integrative medicine?" We encourage everyone to get the answers they seek. Some of the common questions we receive are listed below.
What Is Integrative Medicine?
Integrative medicine is a patient-centered approach to health care that complements traditional medicine while addressing the full range of influences that can affect your health. This includes physical, mental, emotional, environmental, spiritual, and social elements that can all play a role in what's keeping your body out of balance. We employ a personalized strategy that considers your unique condition to combine the most appropriate interventions and help you regain and maintain optimum health.
Does Balance of Life Replace Primary Care Physicians?
No, we want to emphasize that our providers doesn't want to take the place of your primary care or family physician. We're not here to replace your traditional treatment program but to complement your current health care. You should never stop or delay any treatment recommended to you by your doctor without express permission.
Is Dr. Sonnie An MD?
Yes, Dr. Sonnie is a board-certified medical doctor and an integrative medicine practitioner. He graduated with his Doctor of Medicine degree from the University of Cincinnati College of Medicine in 1981 and earned his Master of Public Health degree from the Medical College of Wisconsin in 2000. Dr. Sonnie simply doesn't take the traditional stance but instead chooses to look at medicine from a different point of view. He looks at the whole body, so his patients aren't limited by having only specific diseases diagnosed.
Is Balance Of Life Clinic Accepting New Patients?
Yes, we are. We always welcome those seeking to explore natural therapeutic interventions in conjunction with the care they receive from their primary care physician.
Do Patients Need A Referral From Their Primary Care Physician?
It's never necessary to obtain a referral from your primary care physician to seek care at Balance of Life Clinic. However, to achieve maximum results, it's best if your therapeutic services work in conjunction with your primary care plan. We encourage you to discuss the integrative, complementary services you plan on receiving from us with your doctor so it may be added to your medical records.
Does Balance Of Life Treat Cancer?
No, we treat the person. We help the immune system to function at its peak to fight off the disease. We incorporate a broad array of natural therapies that are almost always considered a much safer solution than many traditional treatments and without negative side effects.
Does Balance Of Life Clinic Treat Children?
No, we don't treat children. Because children don't have fully developed immune and central nervous systems, they tend to respond differently to treatments than adults.
What Happens On Your First Visit?
During your first visit, our providers goes over your history and your current issues and then decides how to best treat you. He may order blood work, heavy metal testing, or allergy testing based on your problems to get a clearer picture of what's affecting your body as a whole.
Does Balance of Life Take Insurance And Does Insurance Cover Treatment?
No, we don't take insurance. Because we have opted out of Medicare, we cannot bill patients' insurance providers. Whether your insurance provider covers any of the costs of your treatment depends on your policy. We encourage you to contact your provider directly to learn whether it will reimburse you for treatments received.
Get Your Body Back In Balance
Balance of Life Clinic proudly services northeast Ohio and some surrounding areas. We encourage everyone to take a proactive and preventative approach to your health and well-being for improved energy and increased productivity.
If you have additional questions not answered above, please contact us at 330-764-4242 or toll-free at 877-764-4242. We're happy to answer any questions you might have and schedule you for your initial appointment at our clinic.