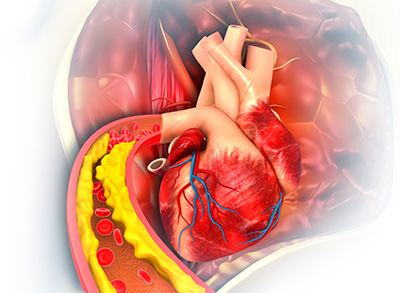 Heart disease is one of the leading causes of death in the United States, with someone having a heart attack every 40 seconds and one person dying every 36 seconds from cardiovascular disease. At Balance of Life Clinic in Medina, Ohio, we administer cardiac chelation therapy to help prevent heart disease by eliminating plaque in the arteries.
What Is Chelation Therapy?
Chelation therapy has been used for many years to treat heavy metal poisoning. During treatment, a chelating agent is injected into the bloodstream and sets off a chemical reaction. This chelator acts like a magnet, binding to metals and pulling them out of the body to be excreted in the urine. Ethylenediaminetetraacetic acid, or EDTA, was patented in 1938 and later approved by the U.S. Food and Drug Administration to treat lead poisoning. Other metals removed during chelation therapy include mercury, cadmium, copper, iron, and aluminum. It's also been known to remove arsenic, which is highly toxic in its inorganic form.
How Is Cardiac Chelation Therapy Different?
Cardiac chelation therapy is a type of intravenous therapy shown to treat hardening of the arteries and poor circulation, causing heart disease and stroke. Edetate disodium, the sodium salt of EDTA, binds to calcium and was initially used to treat digitalis intoxication and hypercalcemia. Later, alternative medicine practitioners began using disodium EDTA to treat symptoms of cardiovascular disease.
As an integrative medicine practice, our providers use cardiac chelation therapy to complement traditional medicine. This treatment isn't meant to replace existing health care provided by your primary care doctor but instead to enhance it. Integrative medicine is a patient-centered approach meant to address the full range of influences that may be affecting your health instead of only diagnosing and treating specific diseases.
How Cardiac Chelation Therapy Works
Like heavy metal chelation therapy, cardiac chelation therapy is administered intravenously over several sessions. The Edetate disodium enters the bloodstream, binding with and attracting calcium deposits in the arteries. These deposits are part of the plaque that obstructs blood flow to the heart, which can result in heart disease.
The chelating agent cleans out the calcium deposits, reducing the risk of coronary artery disease and other heart problems. It also slows down atherosclerosis, commonly referred to as the hardening of the arteries. By removing metals that bind with LDL cholesterol, the bad cholesterol that's known to damage the arteries, it can also act as an antioxidant.
Benefits of Cardiac Chelation Therapy
The primary benefit of cardiac chelation therapy is the removal of plaque from your arteries, which lowers the risk of heart attack and stroke. Because it frequently reduces pain and swelling, some patients also find relief from the pain of chronic inflammatory diseases, including arthritis, scleroderma, and lupus. Other potential benefits of this intravenous therapy include:
Improving cholesterol levels
Reducing fatigue
Boosting cognitive functioning
Countering complications of diabetes mellitus
Schedule Cardiac Chelation Therapy
Balance of Life Clinic offers a wide array of integrative treatments to help you lead a healthier, more productive life, including our cardiac chelation therapy. We strive to balance the body through natural therapies and create individualized treatment plans meant to treat the whole person, not just the symptoms of a single illness. Contact us today at 330-764-4242 or toll-free at 877-764-4242 for more information about our cardiac chelation therapy or any of our IV therapy options.