Hyperbaric Oxygen Therapy for Post-COVID Care
The COVID-19 pandemic has changed people's lives in all sorts of ways. The disease affects everyone differently, and some people continue to suffer from certain symptoms for months or even years after they test negative. At Balance of Life Clinic, we offer hyperbaric oxygen therapy, which can ease post-COVID symptoms and help you feel like yourself again.
Post-COVID Symptoms
Sometimes known as long Covid, these symptoms and conditions can be quite debilitating and last indefinitely after COVID-19 illness.
Some common post-COVID conditions include:
Extreme fatigue
Shortness of breath
Difficulty breathing
Cough
Chest pain
Heart palpitations
Brain fog
Memory problems
Headache
Joint or muscle pain
Sleep problems
Dizziness
Tingling or numbness (pins and needles)
Changes in smell or taste
Diarrhea
Stomach pain
Rash
Menstrual cycle changes
Depression
Anxiety
People who were hospitalized or experienced severe COVID-19 illness, those with underlying health conditions, and people who are unvaccinated may be at higher risk for developing post-COVID symptoms.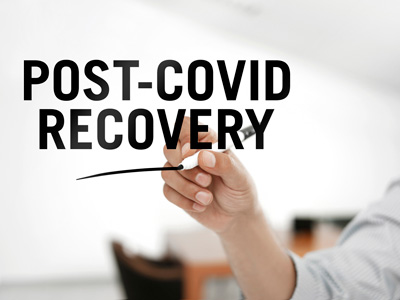 Benefits Of Hyperbaric Oxygen Therapy
The lingering effects of COVID-19 s can have a significant impact on your quality of life, but hyperbaric oxygen therapy (HBOT) may help. Often used for the treatment of decompression sickness, which can occur after scuba diving, HBOT involves breathing 100% pure oxygen in a pressurized chamber. It promotes oxygenation of the blood and tissues and has been found to help heal burns, injuries, and tissue damage, relieve chronic pain, and provide other valuable health benefits.
Case studies and research studies are currently being conducted on the benefits of using HBOT for post-COVID conditions, and the results are promising. After undergoing hyperbaric oxygen therapy, patients saw improvement in cardiopulmonary function and cognition and decreased fatigue, joint pain, muscle pain, and stiffness.
How Does HBOT Treat Post-Covid Conditions?
Hypoxemia is a condition in which oxygen levels in your blood become dangerously low. When your tissues don't get enough oxygen it can cause organ damage and other problems. Although no one knows exactly why people suffer from long Covid, pulmonary effects of the disease such as shortness of breath or difficulty breathing could be a factor.
Hyperbaric oxygen therapy delivers high levels of oxygen, which can help repair tissues and provide anti-inflammatory effects. It may also lessen increased coagulation that affects some Covid patients. Because HBOT is found to lower inflammatory markers in the brain, it can be an effective tool for chronic brain fog as well. The combined improvement of brain oxygenation, immune function, and tissue repair make hyperbaric oxygen therapy a promising treatment for easing post-Covid symptoms and conditions.
Is Hyperbaric Oxygen Therapy For You?
Although hyperbaric oxygen therapy is effective at improving many different conditions, it's not for everyone. If you're suffering from a pneumothorax (collapsed lung), have certain issues with your ears, or take certain medications, HBOT may be contraindicated. Before beginning any new treatment, it's important to talk with your doctor or health care provider to find out whether it may be right for you.
Contact Us To Learn More About hyperbaric oxygen therapy For Post-Covid Care
At Balance of Life Clinic, we understand that long Covid symptoms and conditions can be debilitating. We're dedicated to helping all our patients live healthier, happier lives through integrative medicine. Contact us at 330-764-4242 or toll-free at 877-764-4242 to schedule an appointment or to find out more about the services we offer.